PDE 2015
Theory and Applications of Partial Differential Equations

November 30 – December 4, 2015, WIAS Berlin

Scope
The goal of the workshop is to bring together analysts furthering the theory of PDEs and analysts working on applications involving nonsmooth PDEs. Within PDE-theory, the workshop focuses on harmonic and geometric analysis & inequalities, evolution equations, and elliptic systems; it aims at applications in problems with free and moving boundaries as well as dissipative solids.
Organizing Panel
Invited Speakers
Program
On-site registration opens Monday, November 30, 2015 at noon
Lectures scheduled from Monday, November 30, 2015 early afternoon
till Friday, December 4, 2015 early afternoon
22 invited talks à 45 min (including discussion)
20 contributed talks à 30 min (including discussion)
3 slots for poster presentations (with up to 5 posters per session)
Wednesday evening: Conference dinner
Venue
Weierstrass Institute
Mohrenstr. 39, 10117 Berlin
Deadlines
Registration closed on 16.10.2015, since maximum number of participants is reached.
Early bird registration: October 18, 2015.
Submission of abstracts (talks & posters): October 18, 2015. Submit now.
Registration & Participation fee
Registration is mandatory and restricted to at most 60 participants.
The participation fee covers break refreshments, the conference dinner, and the booklet of abstracts.
Early bird fee: 80 Euros; deadline: October 18, 2015.
Regular fee: 100 Euros; after October 18, 2015.
In case you plan to submit a contributed talk, please note that the decision about the inclusion of your submission into the workshop programme will be taken by November 1st.
Contact
Olga Kuphal
+49 (0)30 20372 320
pde2015@wias-berlin.de
Poster of the PDE 2015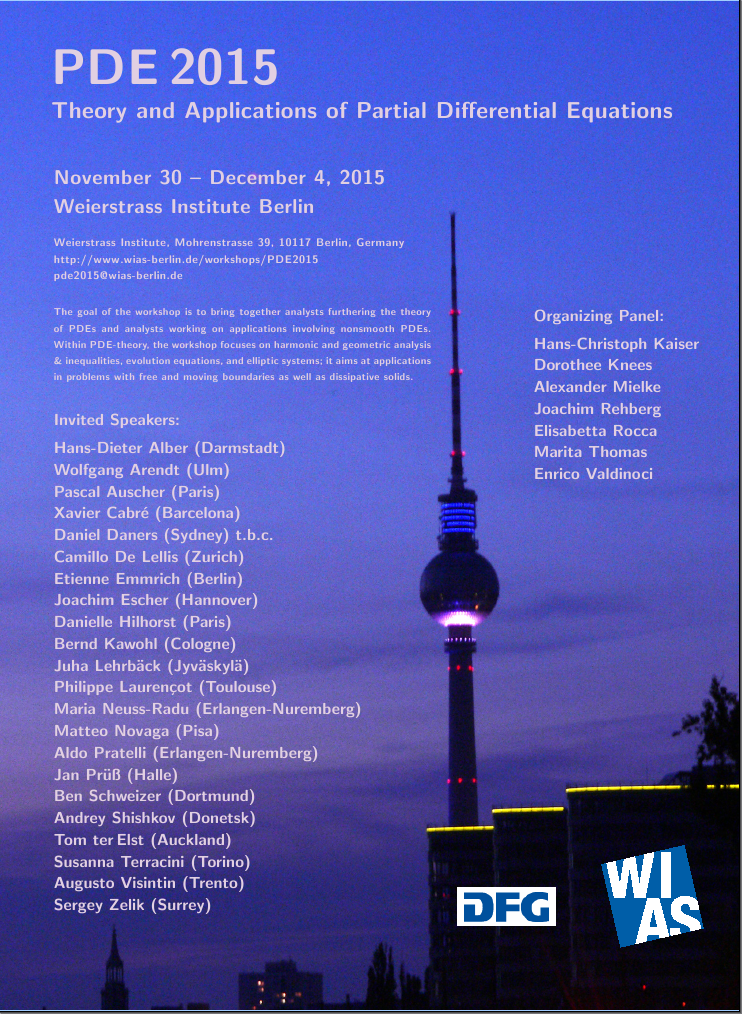 Support
The organizers gratefully acknowledge the support by