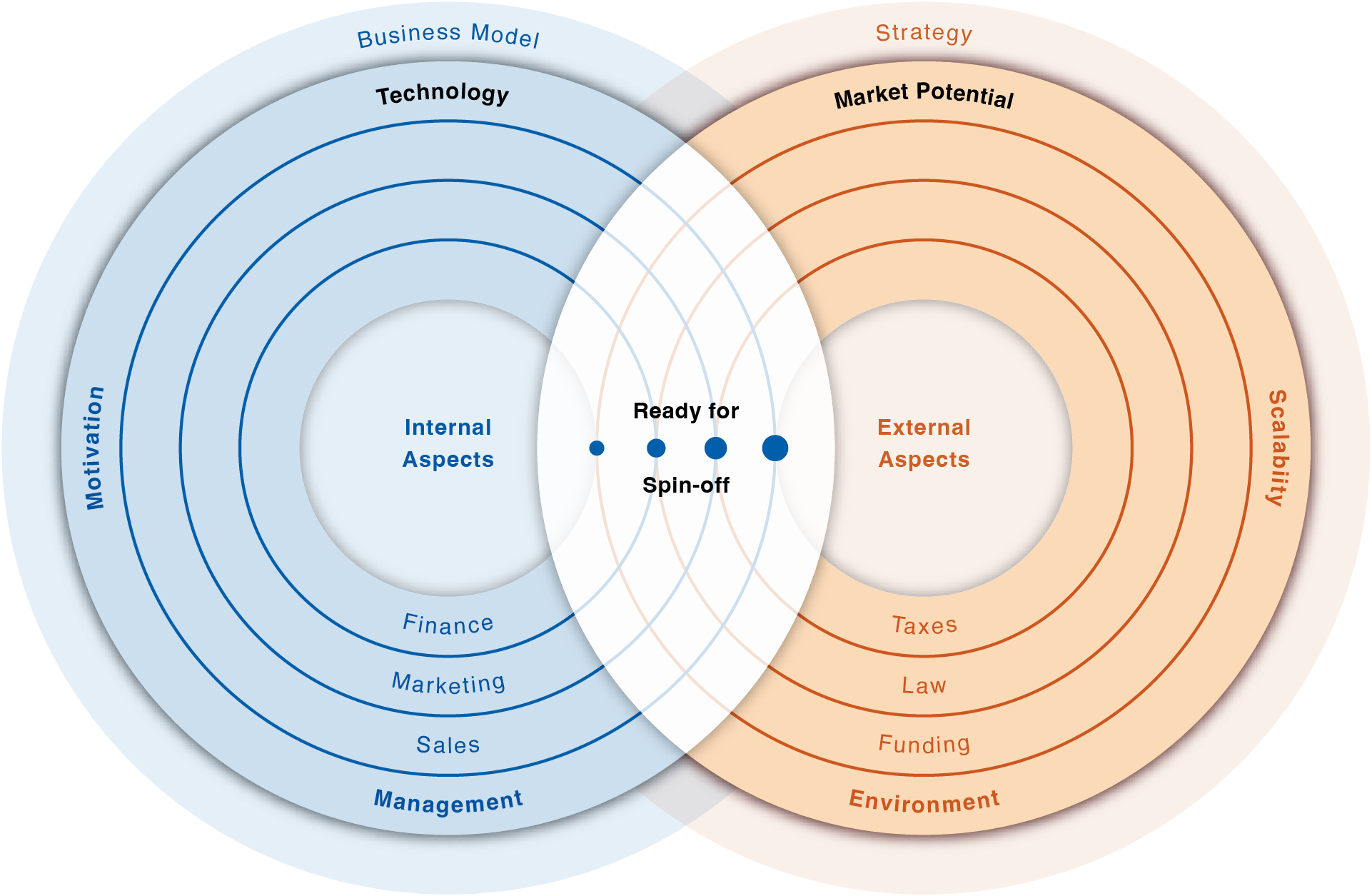 If necessary conditions are met, WIAS supports spin-offs as an attractive alternative to exploitation options such as research and development cooperations or licensing of software products. Due to the complexity and the risks associated with founding a company, spin-off projects must be thoroughly evaluated and prepared. Possible business models for the exploitation of the technology/software, the market and sales potential, the general strategy of the institute as well as, if applicable, supporting structures (access to research infrastructure, external consultants, start-up centers, etc.) play a role. However, the most important element is the availability and personal attitude towards the topic of the potential founder(s).
A spin-off makes perfect sense if there is no direct exploitation path or exploitation partner, as well as a large, preferably international market potential for the technology or software exists and a scalable business model can be implemented. In order to take the decision for a spin-off, the personal motivation of the founders and a committed and enthusiastic founding team is of great importance. The entire team must be convinced of the business idea and be willing to work together for its implementation over a longer period of time and deal not only with technological but also with entrepreneurial issues such as management, finance, marketing, sales, legal and tax issues.
A startup is undoubtedly the riskiest way of exploitation, but it can also generate very high financial returns. Entrepreneurs are dependent on many external factors, such as general market risks, the solvency of customers and external service providers, or the approval of funding applications. Starting a business is not a purely bureaucratic act, but must be well prepared. To build up the competencies of the founding team, it is advisable to attend, among other things, founders' seminars, workshops on business planning, and exchanges with professional founders' advisors on the business idea.
Challenges and support services
Essential aspects to be considered in connection with a start-up project are:
Business idea and business models
Ideational requirements (willingness of the acting persons to take the path of a spin-off)
Establishment of a founding team and external support
Support by the institute in the process of separating from the institute.
Founders from the Weierstrass Institute have access to services of the Leibniz Association (Leibniz Transfer) and the Knowledge and Technology Transfer department in the directorate of the institute, which supports the processing of these questions as well as the access to funding measures such as the EXIST-Gründerstipendium of the BMWi.


Scientific software and spin-offs
In contrast to the classic product business, e.g., in medical technology, biotechnology, or the automotive industry, spin-offs related to results of applied mathematical research often offer solutions that the customer either uses by installing and operating them on his own IT infrastructure (traditional software licensing models, points 1 to 3 below) or uses software via web technologies without having to provide his own IT hardware (points 4 and 5). Relevant business models here are:
License business

Success on the mass market is essential
Customization exclusively and on the user's own responsibility

License and supplementary service

Option, if product as pure license business cannot exist at the mass market
Degree of individualization for the user increases
License business and services such as training and minor customizations

Project business

Customized development and maintenance of software
Project determines the product
two sub-business models: IT project execution and IT project justification>/li>

IT system service business

Use of software via web browser: no installation at the service recipient's premises
Not tied to specific technical infrastructure due to web technologies, e.g. cloud computing Software as a service

Software as a Service

Nutzung der Software über Webbrowser: keine Installation beim Servicenehmer
IT infrastructure and all administrative tasks at the service provider's premises

Spin-offs

Contact