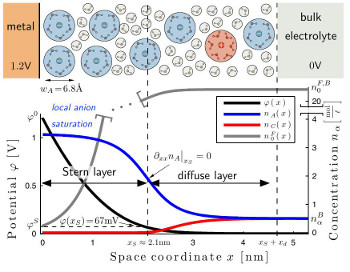 Electrochemical Interfaces: Recent Topics and Open Questions
Sept. 30. - Oct. 02. 2014
Weierstrass-Institute Berlin




Program
Tuesday, Sept. 30th, 2014
Wednesday, Oct. 1st, 2014
Thursday, Oct. 2nd, 2014
09:00
D. Andelman
09:00
E. Zatorska
09:45
M. Biesheuvel
09:45
M. Pavelka
10:30
Coffee and Discussion
10:30
Coffee and Discussion
11:30
M. Burger
11:00
D. Kramer
11:30
Registration
12:15
P. Berg
12:15
A. Latz
12:45
Opening
13:00
Lunch break
13:00
Lunch break
13:00
W. Dreyer
14:30
D. Bedeaux
14:00
A. Franco
13:45
H. Baltruschat
15:15
I. Rubinstein
14:45
J. Fuhrmann
14:30
Coffee and Discussion
16:00
Coffee and Discussion
15:30
Closing Remarks
15:30
K. Krischer
17:00
P. Cendula
16:15
F. Röder
17:45
M. Schmuck
17:00
Coffee and Discussion
18:30
Discussion
17:30
Ch. Roth
18:15
E. Knobbe
18:45
Discussion
19:30
Conference Dinner
Participants
David Andelman
Tel Aviv University
Helmut Baltruschat
Universität Bonn
Dick Bedeaux
NTNU Trondheim
Peter Berg
NTNU Trondheim
Maarten Biesheuvel
Wageningen University
Martin Burger
University of Münster
Peter Cendula
Zürcher Hochschule für Angewandte Wissenschaften
Magnus Dahle
NTNU Trondheim
Wolfgang Dreyer
Weierstrass Institute Berlin
Alejandro Franco
Universite de Picardie Jules Verne, Amiens
Jürgen Fuhrmann
Weierstrass Institute Berlin
Clemens Guhlke
Weierstrass Institute Berlin
Seyed Hosseni
Universität Rostock
Setareh Javadi
Free University Berlin
Payam Kaghazchi
Free University Berlin
Edwin Knobbe
BMW Group Munich
Dominik Kramer
Karlsruhe Institute of Technology (KIT)
Ulrike Krewer
TU Braunschweig
Katharina Krischer
TU München
Fabian Kubannek
TU Braunschweig
Manuel Landstorfer
Weierstrass Institute Berlin
Arnulf Latz
Helmholtz Institute Ulm
Sebastian Matera
Free University Berlin
Annette Meiners
Comsol Multiphysics GmbH Göttingen
Rüdiger Müller
Weierstrass Institute Berlin
Michal Pavelka
Charles University in Prague
Fridolin Röder
TU Braunschweig
Christina Roth
FU Berlin
Isaak Rubinstein
Ben-Gurion University of the Negev
Markus Schmuck
University Edinburgh
Jürgen Schumacher
Zürcher Hochschule für Angewandte Wissenschaften (ZHAW)
Ewelina Zatorska
Ecole Polytechnique, Paris
. . .